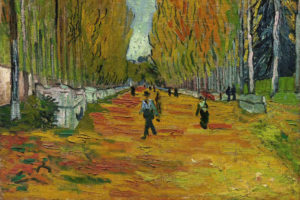 Vincent van Gogh, one of the most famous artists in the world, was considered as a 'mad' artist during his time. He suffered from mental illness throughout his life. Even though he created many wonderful paintings, his skills were overshadowed by his troubled mind. The perceptions other people had about him prevented him from getting the recognition he deserved.
Van Gogh was a brilliant artist who created wonders through the magical strokes of his brush. However, his artistic genius was truly accepted by people only after his death. Van Gogh worked with a sense of urgency, which caused greater levels of stress for him. However, this never prevented him from finding innovative ways for copying his emotions and surroundings into a canvas.
His unique painting and drawing styles are now praised all over the world, but it is a painful fact that this genius artist, whose paintings are now sold for millions of dollars, was struggling economically whole through his life. If he had lived to see his fame, he would be one of the wealthiest artists in the world. But unfortunately, his troubled mind decided to end all his miseries at a young age itself and he committed suicide at the age of 37. But even after a century of his death, he still remains as an epic artist who created some wonderful paintings with his own distinctive style.
Early years of van Gogh's life
Van Gogh tried his luck at different professions before establishing himself as a painter. After leaving the school, he became an apprentice at his uncle's shop which was a branch of an art dealership company called Goupil& Cie. As a part of this profession, he traveled a lot and also got exposure to the art of his time. He also worked as a preacher before finding solace in painting.
From his early paintings itself, he gave great priority to detailing and perfection. These paintings showed the potential this great artist has and hinted his artistic genius that he would develop in the following years of his painting career. Even though his early drawings and paintings may appear amateurish, it was some fascinating creations that resulted from his studies of Realism.
His first drawings were created while he lived at his parent's home in Etten, Netherlands. He created his own style in paintings that he learned through continuous experimentations. His early drawings were in black and white palette because he believed that it is important to master in this discipline before working with colors.
Van Gogh portrayed peasants in static poses in his early drawings. He chose shadows and light to depict different dimensions in his paintings, rather than using colors.
Van Gogh got training from Anton Mauve for a brief period, which helped him to grow his artistic intelligence. Along with providing basic knowledge for his pupil in painting, Mauve also provided them with knowledge about watercolors and oils. Van Gogh was able to widen his skill set under the training of Mauve which helped to mold this talented artist.
Middle years
Van Gogh had gone through tragedies like his father's death, love failure etc., which caused a backdrop in the development of his artistic skills. However, he was able to overcome these miseries eventually and moved on with his painting career.
When he lived in the Nuenen village, he concentrated on the agrarian scenes featuring peasants and their life. He brought out the sad reality about the life of people who earned their living from the soil. It is during this period that he created "The Potato Eaters", which is a truly magnificent piece that is considered to be his first masterpiece by many people. Through this painting, he was able to illustrate the hard life of peasants through the perfect contrast between light and shade.
Latter Years
Van Gogh moved to Arles in France, where he rented The Yellow House. This was a productive period in his life and he created many beautiful paintings during this time. He created the second series of the world-famous Sunflowers during this period. Van Gogh was visited by Gauguin, a great fellow painter of his time, for an extended vacation. Even though the first days were very productive for both artists, it became problematic when arguments and disagreements began to bubble, which resulted in van Gogh cutting his own ear.
After these events, van Gogh was admitted to an asylum. Even in the middle of mental deterioration he created some stunning paintings which show the real talent this artist has.
Final Days
His mental illness took a toll on his daily activities. But it never affected his paintings and his last days were considered to be one of his most productive periods. But sadly, it didn't last long. Van Gogh shot himself in the stomach and died two days later. "The sadness will last forever" was his last words to his brother. Thus, this wonderful artist who still amazes the spectators with his unique style of painting and drawing left the world like an unfinished painting.
You will be able to experience the real talent and abilities this legendary artist has through van Gogh tours, which includes exploring the van Gogh museum Amsterdam that houses most of his masterpieces. Van Gogh tours is one of the unavoidable part of every Amsterdam trip, as it will help you to pay tribute to this great artist who changed the perceptions about painting through his unique and innovative styles.