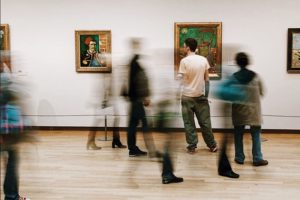 Dutch artist Vincent van Gogh's life was a turbulent and restless one. From an early age, Vincent moved incessantly, looking for an environment which would calm him and offer him artistic inspiration. "It always seems to me that I'm a traveller who's going somewhere and to a destination," Vincent wrote to his sibling, Theo van Gogh, in an 1888 letter. When on a Van Gogh tour Amsterdam program, you might have heard that it was Theo who told Vincent to become an artist. By the year of his demise, he had lived in more than 15 European cities. Each location influenced the volatile and passionate artist's life and work.
Below listed are some of the places that inspired the artist.
The Hague
In 1869, Vincent left his hometown Zundert for the relatively more cosmopolitan city, The Hague. There, the artist started his apprenticeship at Goupil gallery, where he was exposed to the modern style art. At other exhibition areas across The Hague, he found and loved bucolic and soft-hued landscapes by Hague School painters, particularly Anton Mauve. Numerous sketches from the 19th century period still exist, which reveal Vincent clumsily yet resolutely experimenting with landscapes and cityscapes.
In December 1881, he came back to The Hague. Meanwhile, he had spent over a decade as a burgeoning artist and itinerant art dealer. By this time, he had dedicated fully to art creation and started to sketch urban life, with an emphasis on the poor and downtrodden individuals in the Netherlands. One of his most striking and empathetically figurative artworks, "Sorrow" comes from this era. It depicts his lover and muse, a lady named Sien, as pregnant, naked and clutching the body. During his stint in the city, Vincent also injected colors into his palette, and he started making vibrant and thickly impastoed paintings.
One of his best early paintings, "View of the Sea at Scheveningen", depicts the roiling ocean. Grains of sand embedded in this painting's surface are evidence that Vincent made it in the open air on a blustery day.
Nuenen
In December 1883, a thirty-year-old Vincent followed his family members to the pastoral Nuenen village. His relationship with parents was a fraught one, but the artist set up his own studio on their property, where he was able to work in pace. Vincent and his brother Theo entered a business arrangement, which calmed his nerves and gave him financial stability. The art dealer Theo van Gogh would send his brother a frequent allowance in return for any works of art he made.
In this mostly calm environment, Vincent's work progressed. When he was concentrated, he spent time perfecting the oil technique. Landscape paintings from 1884, depicting the church where his dad was a pastor and the surrounding countryside, show Vincent experimenting with color modulation and the depiction of autumnal light. Besides landscape, peasant life also gave artistic fodder for Vincent, and inspired what many consider his magnum opus: "The Potato Eaters".
Paris
Vincent van Gogh's 24-month stay in the French capital drastically transformed his work. The artist was introduced to the French Impressionism style during this time. He incorporated the bright palette and loose, active brushwork of Impressionism into his own work. "In Antwerp I did not even know what the Impressionists were," Van Gogh wrote to his fellow artist and friend Horace Mann Livens. "Now I have seen them and though not being one of the club, yet I have much admired certain Impressionist pictures—Degas, nude figure—Claude Monet, landscape."
Vincent spent short time periods in Paris city before, while he was working for the Goupil gallery. In 1880's, however, he was more focused on improving his painting method. For a brief period, Van Gogh studied under the French painter Fernand Cormon, whose disciples included Émile Bernard and Henri de Toulouse-Lautrec. However, Vincent' education actually came through the other artists he associated with. Bernard and Toulouse-Lautrec became Vincent's friends; he met Eugène Henri Paul Gauguin; and, he lived nearby Impressionist Pierre-Auguste Renoir.
Two self-portraits which Vincent made in a short span of time reveal his rapid progress. In 1887's "Self-Portrait with black felt Hat", Vincent rendered himself with tight, traditional brushwork and a dark palette. In "Self-Portrait with Gray Felt Hat", made just a few months later in the same year, he appears as a blend of pronounced and active brilliant blue brushstrokes, accented with bright white and hot orange. The painting evidenced Neo-Impressionism's impact on Vincent, and the starting points of his own influential and unique style.
Arles
Van Gogh's stint in Paris city proved to be artistically fruitful for him, but it exposed him to unhealthy temptations and pressures too. In the biography, "Living with Vincent van Gogh", its writer Martin Bailey suggests that growing tensions between Vincent and his sibling and the high living cost in Paris city, likely brought about his move to the city of Arles. "I left Paris very, very upset, quite ill and almost an alcoholic through overdoing it," Vincent later wrote.
Arles was encircled by fertile olive groves, vineyards, orchards, wheat fields and sunflowers, and was proximate to the ocean. This abundant landscape inspired Vincent, who completed about 200 paintings during his 15-month-long stay in this area. To get an idea about how this city would have inspired people like Vincent to produce landscapes, take an Arles Van Gogh walking tour.