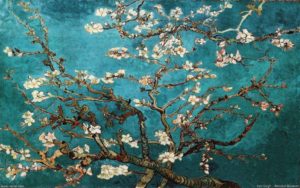 Van Gogh museum is a must visit place to see while you are on your Amsterdam trip. This museum house the master pieces created by the world renowned painter Vincent van Gogh. It is impossible to not admire this artist for his precision, accuracy and perfection with which he created his paintings. Following are some extraordinary paintings created by van Gogh which shows the real talent of this blessed artist. Make sure that you never miss those on your van Gogh museum tour.
The Harvest, 1888
This is one of the most adored works of van Gogh. Through this painting he successfully depicted a beautiful harvest season. He was able to capture the peasant life and work on the land in his canvas. You can almost feel the scorching heat that radiates off this painting and can see a warm summer day along with the clear sky and fantastic landscape in this painting.
The Bedroom, 1888
This is the painting of van Gogh's bedroom in the Yellow house, while he was living in Arles. Van Gogh arranged his room with simple furniture and decorated the walls with his own paintings. He used bright colors to signify the absolute 'repose' or 'sleep'.
Pollard Willow, 1882
The painting is really fabulous with its minor detailing. The painting portrays a spot he found during his long walks near his house. You can see the dead pollard willow under the gloomy sky in this painting. He carefully chose the colors to match with the "gloomy day" appearance the painting gives.
Worn Out, 1882
The painting showcases an old man who looks sorrowful and cradling is head in his hands, sitting beside an extinguished fire. The drawing is done completely by pencil.
Van Gogh selected the model for this painting from the Dutch Reformed Almshouse for Men and Women in The Hague. He created varieties of paintings in which the residents of this place posed as models. He practiced different poses and facial expressions and human proportions with the inhabitants of The Hague.
Boulevard de Clichy, 1887
Boulevard de Clichy is a major street in the Paris district of Montmartre. The painting portrays a junction van Gogh often crossed. The painting has a clear depiction of art movements Impressionism and Pointillism prevailed during his time, which motivated him to use lighter colors.
Old Vineyard with Peasant Woman, 1890
The painting was created during the last months of his life. It has same wavy lines which defines his late works. The painting was started with pencil drawing, and oil paint and water color was added in the later stages. Van Gogh used different shades of blue in this painting along with some shades of red on some of the roofs. The white color plays a significant role in this painting as he left large areas of paper blank.