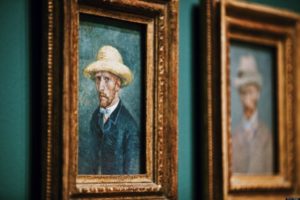 Amsterdam boasts its rich history and culture through its museums and other cultural and historical landmarks. This is a great destination for art lovers to see and admire the works of some legendary artists. Therefore, we are listing some of the popular museums in Amsterdam where you can see a lot of world-class artworks created by many great artists of history.
Van Gogh Museum
Being one of the popular museums in Amsterdam, van Gogh tours remain as one of the must-do activities in Amsterdam. Van Gogh museum tour is a great opportunity for you to see the magnificent paintings created by Vincent van Gogh, one of the most talented artists in art history. This museum houses most of the popular paintings of this great artist including "Sunflowers" (1889), "Almond Blossom" (1890), "Irises" (1890), and a lot more. Van Gogh tours will be one of the most memorable experiences you can get during your trip to Amsterdam.
Rijksmuseum
Rijksmuseum, the largest museum in the Netherlands, is a great destination for art and history fanatics. It houses an enormous number of art collections along with some important relics that signify the history of the Netherlands.
Some of the popular artworks exhibited in this museum include "The Night Watch" by the Rembrandt, "The Milkmaid" by Johannes Vermeer, etc. You can enjoy a lot of world-famous artworks here that are created by legends in art history.
The Anne Frank Museum
Dedicated to Anne Frank, this museum remains a sad reminder of one of the cruel events in world history. This is where Anne Frank and her family hid from the Nazis and where she wrote her diary. The exhibits showcased here are simple, however, they can give you an insight into how the Frank family lived in this house before they were arrested by the German police.
You have to purchase the tickets online for getting entry to this museum. Tickets can be purchased even before two months of your visit.
Stedelijk Museum
This modern museum is home to a large number of eclectic paintings. If you love modern art, this is a great destination to head to. This museum is less frequented by visitors when compared to the other museums mentioned above. Therefore, if you want to see some brilliant artworks in a less crowded environment, then this is an ideal destination for you.
Amsterdam houses a large number of museums that have become famous across the world for the wonderful collections they hold. Visiting these museums can give you a peek into the history and culture of Amsterdam. Therefore, you should definitely include these museums in your must-visit list during your Amsterdam tours.