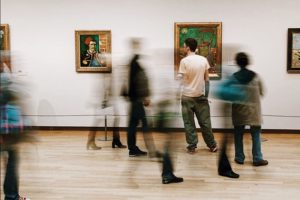 Amsterdam is one of the famous tourist destinations in Europe. With its popular museums, numerous entertainment venues, wonderful theatres, and spectacular canals and other attractions, it manages to attract a large number of visitors from all over the world. If you are planning to visit this place, there certain places you should definitely visit. A few of them are listed below:
Van Gogh Museum
Van Gogh tours are an important part of every Amsterdam tour. A large number of art lovers and historians flock to this place to enjoy the paintings created by van Gogh, one of the greatest artists in art history. This museum was opened in 1972 and houses numerous artworks created by this extraordinary artist who contributed many innovative painting methods for the modern art world.
It houses 200 paintings along with 500 drawings and etchings. This museum has almost 700 letters written by (and to) van Gogh to his friends and family. Most of these collections are contributed by his brother Theo and other family members. Home to the world's largest collection of artworks created by van Gogh, this museum remains as a great tribute to this wonderful artist, whose true talents were not appreciated while he lived. However, this artistic brilliance is now approved and admired worldwide and the huge number of visitors this museum receives every year is proof of this.
Some of the famous artworks this museum holds include The Potato Eaters (1885), Almond Blossoms (1890), Sunflowers (1888), Irises (1890), Bedroom in Arles (1888), etc. The museum also has many self-portraits he created over the years. Van Gogh museum tour is a great way to pay tribute to this great artist who created a revolution in the world of art. Through van Gogh tours, you can learn about the art movements that existed during his time as they had a great impact on his paintings.
The Rijksmuseum
Rijksmuseum is another famous attraction in Amsterdam and it is also the most important art repository in this place. This museum was established in the year 1809 for housing the huge collection of enormous artworks and antiquities the country holds. It boasts seven million artworks, and the most important 5,000 paintings among them are spread across 250 rooms. In addition to the wide collection of paintings, this museum also holds almost 35,000 books and manuscripts, as well as a large number of brilliant displays that showcase the development and nurturing of art and culture in the Netherlands.
By visiting this museum, you can get an elaborate idea about the art history of this place through the magnificent paintings it houses. It also has wide collections of medieval sculptures, traditional handicrafts, and modern art styles. Rijksmuseum tour will give you a wonderful chance to appreciate and enjoy the rich art and cultural history of Amsterdam and the whole Netherlands.
The Anne Frank Museum
This museum stays as a reminder of the tragic and horrible events that happened in association with World War II. It is dedicated to Anne Frank, one of the well-known Holocaust victims in the world. This is the house where Anne Frank and her family took refuge then the Jews were being brutally murdered by Nazi soldiers. However, they were eventually found by these soldiers and were sent to concentration camps where they died later.
During her stay in this house, Anne Frank wrote a diary that described the terrifying events and sufferings that World War II brought. This became an international best-seller after the war. Now, this house has become a famous monument in Amsterdam that still reminds the visitors about a tragic period of history.
When visiting the Anne Frank Museum, don't forget to visit the West Church of Amsterdam which is one of the most famous churches in the city. The construction of this Renaissance church was completed in 1630 and it boasts many brilliant international and external Gothic features.
This church has an 85-meter tower which is known as "Langer Jan" and is the highest in the entire city. Another attraction of this church is a large replica of the emperor's crown that is placed on its spire in memory of the Emperor Maximilian of Australia. Other highlights include an organ dating from 1622 and a marble column placed here in memory of Rembrandt in the year 1906.
Vondelpark
It is the largest park in Amsterdam that spreads across 116 acres. This is an ideal place for those who want to relax after their exploration of the city. The luscious greenery of this place attracts a lot of visitors throughout the year. It also features beautiful ponds, pathways and a rose garden that has 70 types of the flower.
It also contains a large number of sculptors and statues, playgrounds, and many other recreational facilities. This is a must-visit destination during your Amsterdam tours.