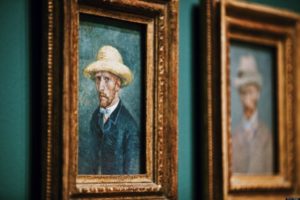 The Van Gogh Museum in Amsterdam is dedicated to the works of Vincent van Gogh and his contemporaries. It is among the most popular museums in the world. The museum attracts a large number of visitors every year from different parts of the world. The museum accommodates the largest collection of works by Vincent van Gogh. The collection includes more than 200 paintings and 500 drawings of Vincent van Gogh. It also has a collection of 700 of his letters. This museum was originally opened on Museumplein in 1973. Over the following years the Van Gogh Museum has been expanded and modernized. The museum now ensures a truly cutting-edge exhibition for the visitors, and provides enough visitor space.
The Specialties of the Museum
For every visitor whether it be a local or someone travelling from a great distance, the Van Gogh Museum stand out as a unique and inspirational experience. The museum contains the legacy of Vincent van Gogh. It includes a lot of his instantly recognizable impressionist works. The paintings of van Gogh such as his landscapes, self-portraits and still lifes etc. are included in the collections of this museum.
One of the highly recognized works of van Gogh, the 'Sunflowers' stands proudly in this museum. It is a must see in the van Gogh tours. Alongside enjoying the works of a true legend, the museum also provides opportunities to track the artist's development and his life. It is also possible to compare his paintings to works by other artists from the 19th century. The makes it possible to see the works of those who inspired van Gogh and those who drew with the inspiration attained from his works.
Expansion of the Museum
In 1999 the Van Gogh Museum was additionally expanded. The museum was then entirely refurbished in 2013. The expansion and refurbishment of the museum provided enough space to ensure that it remains a cutting-edge exhibition space for the Van Gogh works. It also provided space for conducting impressive temporary exhibitions.
The museum got a new entrance in 2015, directly on the Museumplein. This acted as a modern and attractive entry point for the museum and was able to cater to the large number of visitors that increases constantly. The place has also exhibited masterworks from Van Gogh's peers in recent years which you can see during the van Gogh tours. The major exhibitions that are conducted by the museum include the works of peers of van Gogh such as Gauguin, Munch, Malevich, Kandinsky and Vallotton.