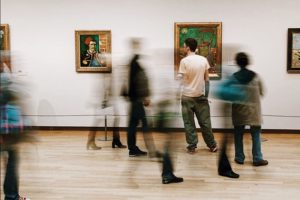 What makes Van Gogh special as an artist is that he is a self-taught painter who changed the style of post-impressionist painting. So, a better understanding of the Dutch master artist is essential before any Van Gogh museum tour to get a better understanding about his paintings. The vibrancy that you observe in his paintings came about after he moved to Paris where the colourful palettes of impressionist and post-impressionist painters influenced him. Besides, it is well known that he worked at an incredible pace producing over 2000 art works in about 10 years. Read on to know about the Dutch painter Vincent van Gogh, the man who painted Starry Night.
The Art Of Vincent Van Gogh
The paintings of Vincent van Gogh emulate the surreal bountiful emotions that take hold of the artist when he sees a scene. Besides, it is a unique style that combines flowing brush strokes creating a sense of flow in the viewer and influenced artists of the later years. Above all, he is the single most influential artist who changed art of the 20thcentury, which is very much like Einstein's influence on science. Also, visiting the Netherlands you will notice many Van Gogh tours that explore various aspects which influenced his career.
The Style And Technique Of Vincent Van Gogh
Early Years
As already stated, Vincent van Gogh is a self taught painter and as part of his training he tried to master drawing. It was only after he mastered it began using colours which naturally lead into watercolours. Besides, in this period he created a series of 10 graphic works, 9 of which are lithographs and 1 is an etching. One of the popular artwork in many Van Gogh museum tour is the "Potato Eaters" and it was created during this period. Above all, he was profoundly influenced by the artist Jean-Francois Millet and this cannot be overstated.
Middle Years
Vincent van Gogh moved to Paris in the year 1886, the impressionist and neo-impressionist movement that was happening there influenced him in the deepest way. The bright colours of these paintings brought light and colours to the depression that was creeping into his mind. So, he began using brighter colours like red, blue, yellow, green and the other colours of life. He was also influenced by the colourful Japanese prints and they had a similar effect on artists like Henri Matisse as well of the 20th century.
Advanced Years
In his later years he began to paint a lot more self portraits and began using bolder complementary colours. These are some of the dynamic self portraits of any artist apart from that of Frida Khalo.
These are some facts you should know about the master of colours Vincent van Gogh who changed the art of the 20th century.