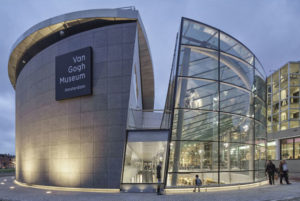 Amsterdam is a land of culture and history. It is one of the most visited places due to its rich culture, and aesthetic beauty. There are so many museums and monuments to make the visitors look back to their history and also so many places to get relaxed with nature. If you are visiting Amsterdam, Van Gogh museum tour is something that you cannot skip from your schedule. The following are some interesting facts about the great artist, Vincent Van Gogh and the museum.
Van Gogh Was Not Well Known During His Lifetime
It is one of the funniest and at the same time, a little sad fact about Vincent Van Gogh. He is now considered as one of the greatest artists ever lived in this world. All his paintings and artworks will cost a fortune. But during the time he lived, he didn't have had much recognition. Presently, it is very hard to get our hands on an original Van Gogh painting and people are ready to spend millions of dollars to grab one. But when he was alive, he could sell only one painting and that too for a small amount.
Van Gogh Museum Is At Amsterdam But Van Gogh Is Not From There
It is one of the most surprising facts about Vincent Van Gogh. We all might think that Amsterdam is the hometown of Vincent Van Gogh. In fact, it is not. However, he had lived in this city for a year during 1877 and it is evident from his letters that he had loved this city. Vincent Van Gogh was born in Netherlands and later he moved to Paris. Amsterdam was one of the places he visited during his lifetime. He lived most of his life in a village called Arles in the southern part of France. Most of greatest artworks were also made during this time.
Friday Night Is A Special Night
If you are planning to visit the Van Gogh museum during your visit to Amsterdam, it would be better to schedule it to a Friday evening because it is a special night at this place. On regular days, the museum will close at 6 in the evening but on Fridays it will be open till 10pm. There will be also many special events like music concerts and video shows during this time. After 6pm on Fridays, the guided tour through the museum is also free of cost.
Van Gogh museum is one of the must visit locations in Amsterdam. It will give you a journey through the history of Netherlands and also through the life of Vincent Van Gogh.