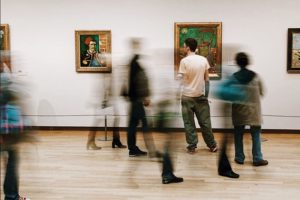 Amsterdam's Van Gogh Museum and Assen's Drents Museum have purchased Vincent's "Peasant burning Weeds" at a Sotheby's auction held on November 18, 2019. This painting dating back to Vincent Van Gogh's Drenthe era cost the buyers $3,140,000, which is more than the estimate of up to $800,000.
Because only some canvases painted by Vincent continue to exist from his visit to Drenthe, it is very rare for an oil painting to hit the market. These oil paintings have dark and moody tones, and these predate the vibrant coloring of Vincent's subsequent French canvases that attract exorbitant rates today. That explains the rather low estimate of the Sotheby's auction house and why these Netherlands institutes were inclined to make higher bids.
Vincent visited Drenthe province in Holland to be free from his pressure-filled life in the city called The Hague. This is where he met, fell in love with and moved in with an ex-prostitute named Sien Hoornik. Their relationship did not quite pan out the way he thought it would, so he came to Drenthe to free up his mind. In the Nieuw-Amsterdam and Hoogeveen villages there, he did what he loved to do for a few months in 1883.
A letter of Vincent included a sketch of "Peasant burning Weeds". In the same year, Vincent wrote this letter to his sibling Theo Van Gogh where he told what he was working on. The letter contains, "I'm still working on that weed burner, whom I've caught better than before in a painted study as far as the tone is concerned, so that it conveys more of the vastness of the plain and the gathering dusk, and the small fire with the wisp of smoke is the only point of light." Then, Vincent had just been creating paintings with oil for below 24 months.
These two Holland-based museums got the grants to buy this artwork from the Rembrandt Association, Mondriaan Fund and BankGiro Loterij. The Assen-based museum will first exhibit it, and then it will go to the Amsterdam institution.
Vincent mentions 18 canvases in the letters he wrote from Drenthe, but as per the Van Gogh Museum, just five of these paintings continue to exist. One of these works is "Peasant burning Weeds". It portrays the silhouette of an agricultural worker setting fire to weeds. You will also be able to see this realism-style painting when on a Van Gogh Museum tour in the near future.