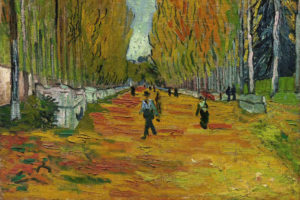 Van Gogh is a true legend who created magic with a few strokes of his brush. He is a world renowned artist who created many wonderful paintings like "The Starry Night", "Sunflowers", "Almond Blossoms", "Potato Eaters" etc. All of his paintings are admired by people all across the world. He is a wonderful artist who won the hearts of many with his paintings.
The van Gogh museum in Amsterdam is entirely dedicated to this great artist. The museum houses works of van Gogh and his contemporaries. Van Gogh museum private tour is an important part of your Amsterdam tours. Visiting this museum will be a great opportunity for those who want to pay tribute to this great artist who created wonders with his hands.
Even though everyone is familiar with different works of Vincent van Gogh, details about his personal life are unknown to most of the people. In this article, we are talking about some interesting things about van Gogh that will help you to understand more about him as a person.
He painted almost 900 paintings within the span of 10 years
Van Gogh took painting as a profession at the age of 27. Until then he tried his luck at some other professions but failed eventually. But at the age of 27 he decided to concentrate solely on painting. Unfortunately, he died at the age of 37. But during 10 years of his career, he created almost 900 paintings and a further 1,100 works on paper, which makes it a mind-blowing fact considering he created a new artwork every 36 hours.
Van Gogh suffered from mental illness throughout his entire life
It is a sad fact that this wonderful artist lived with mental illness throughout his whole life. It is indicated that he had depression, hallucinations, and seizures which became quite severe at times. He also spent many of his days in some mental asylums.
His nickname was 'The Redheaded Madman'
Van Gogh had spent a lot of time in hospital because of his mental illness. His abnormal behavior attracted the attention of his neighbors over time which resulted in this particular nickname.
Van Gogh took his own life
In 1890 van Gogh shot himself in the chest and died two days later. "The sadness will last forever" was his last words to his brother. This was really heartbreaking for those who loved van Gogh.